Carolyn Sandoval
Senior Director of Instruction and Pedagogy and Director of Engaged Teaching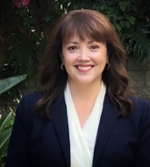 9500 Gilman Dr
La Jolla , California 92093
Profile

Dr. Carolyn Sandoval serves as the Senior Director of Instruction and Pedagogy and as the Director of Engaged Teaching in the Teaching + Learning Commons. She has worked in higher education for over 25 years and has extensive experience in teaching and in developing and leading programs aimed at faculty and student success. Prior to her appointment at UCSD in 2018, Dr. Sandoval worked in the Dean of Faculties unit at a large research institution where she provided individual and departmental consulting on a variety of topics, including curriculum redesign, inclusive and equitable teaching practices, and peer review of teaching. She also designed and facilitated programs to prepare new faculty for their teaching role, and workshops including course design, active and collaborative learning, engaging students in online courses, and other topics related to teaching excellence.

Dr. Sandoval worked several years in the areas of outreach and retention for Chicanx/Latinx students at the University of New Mexico and the University California, Riverside. She has years of experience as a researcher, lecturer and consultant. She has taught graduate and undergraduate level courses in learning theories, qualitative research methods, and social justice education, both online and face-to-face. She has provided educational consulting at various colleges and universities across the country and internationally. Her research interests include transformative learning, adult learning and development, women and mass incarceration, and social justice.

Dr. Sandoval received a Bachelor of Science degree in Communications from California State Polytechnic University, Pomona, a Master of Science degree in Adult Education from Texas A&M University, and a Doctor of Philosophy degree in Educational Human Resource Development from Texas A&M University.
CV